DISCIPLINARY COMMITTEE RELEASES VERDICT ON SUSPENDED STUDENTS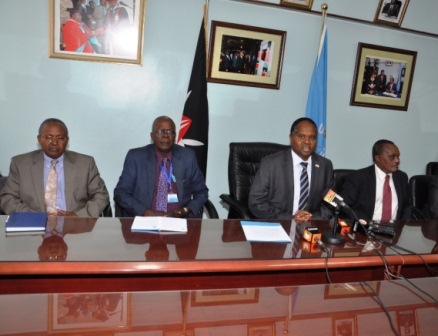 A disciplinary committee that had been tasked with the job of deciding the fate of suspended students has come up with a verdict. More than 200 students were suspended for participating in the unrest and destruction of public property.
This was made public during a press briefing where the Vice Chancellor Professor Mbithi announced that 33 students have been expelled, 25 suspended, 143 given warnings and 17 acquitted. Further the VC stated that university senate committee that had been tasked to audit the affairs of SONU and assess its electoral system and table its findings, had released preliminary findings that would be tabled in the next senate seating.
The University hostels that had been damaged during the riots have also been repaired and students will need to adhere to laid down rules regulations in order to maintain safety and order in the halls of residence.
The new reporting dates for students are as follows: College of Health Sciences, level 5 Bachelor of Medicine and Bachelor of Surgery will report on Monday 25th April. All the other students who in session before the closure will report on Tuesday May 3rd 2016